Well it has been 1 month following my last post of From 0 to 0.1: the Journey of Bootstrapping a Small E-commerce Plugin to a Scalable Business (Part 1). We have done a lot since our SEO Product Optimizer (SPO) soft launched on the Shopify App Store. I think that the marketing works are not good enough. Here is a short recap of what we have done from 11/1/2017 – 10/2/2017:
What's done list:
We have changed from a free app (beta) to a formally published app, now charging US$15.99 / month (8 paid users converted at the moment)
Simplified the app installation process and an installation tutorial video has been published on Youtube
New feature: Default Facebook share image, website title, meta description are added on our SEO Product Optimizer
Launched Conversion Report, a professional review service for online stores
An intro video has been produced and published on Youtube
Set up a simple affiliate program for agencies
Paid ad experiment on Facebook from 6/2 – 9/2/2017 (3 days) at ~US$25 / day
Paid ad experiment on Reddit from 4/2 – 9/2/2017 at US$10 for the period
Why are we changing from free app to paid app?
Since we launched our beta as a free app, we discovered free users are not willing to give us feedback, review, nor read / reply to our email (whether machine / human written). Instead, they will try our app for a while and disappear for a long time. I guess that's similar to my user behavior when I am using the free apps on this WordPress blog.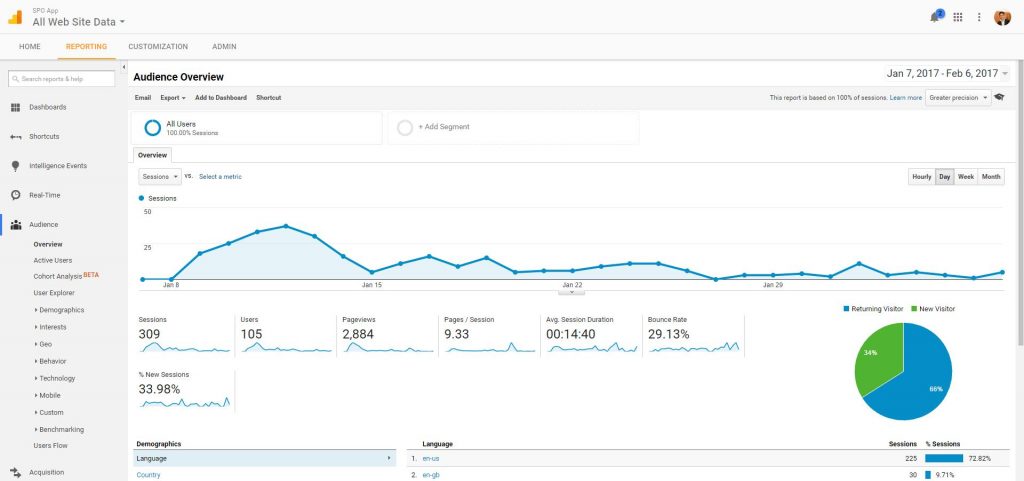 We can learn very few things from existing users, except that they are increasing their usage on our app (before 13/1/2017). We developed the app because we wanted to develop something useful for users and they would be happy to pay us. If we don't make more money or have more user feedback, along with more users, I don't see any reason to continue. It's just another kind of developer masturbation. That's a tough decision indeed because we might lose all users at once. The decision could not be rolled back either. To be honest I'm fucking scared about this move.
But I see the move as a test for our app. If we spend several months working on it, but we can't find any paid users, there are only 2 reasons, either we suck at making a product or there is no market at all. In either case, it's time to say goodbye. There's no point in going ahead.
Booyah! The first customer arrives
Finally, after a few hours, the first customer arrives, i.e. Sam. Sam is a very funny customer. He has been supporting us since we launched our app in December 2016. Besides trying our app, he also sends us some opinions. He may be the kind of early adopters we want. In terms of his business, Sam is running a store called Collekt, selling Funko Pops / Dorbz / Mystery Minis in the UK. His store was launched on June 2016.
Some of his products:
I am not affiliated with Sam. However, his products are quite fun for "kidults" like me, and we appreciate his encouraging email (Yang is my colleague).

It's always fun to chat with him. He also gave us the first 5-star review on the Shopify App Store. I really appreciate his support when we feel lost in the difficult time. I guess if we could find 1,000 Sams, we would be achieving a sustainable business.
Damn it! The first 1-star review appears 🙁
We also received the first 1-star review. Not cool at all. The Shopify platform sets a limit to edit the website title and meta tags. This part is controlled by the Shopify theme. If we want to change any Shopify Store's meta tag, we must edit the Shopify theme, i.e. the liquid code. It cannot be controlled by Shopify App API, which is very different from what I imagined before we developed the app.
I don't blame the user, First Generation Millionaire. He found it difficult to edit the code on his own. I found it the same. But we cannot change Shopify's software architecture. The installation process can hardly be streamlined like the WordPress 1-click app installation. After discovering his comment on Friday morning, we immediately made a tutorial video and simplified the installation documents. Following that we replied to him about the issue. We are sorry to bring him inconvenience.
Launched Conversion Report
Conversion Report helps to give professional reviews for online stores, whether it's about design, branding, SEO or user engagement, we can help users to do a quick check. I bought a theme at US$14 and made the landing page in 1 day. The pricing plan was initially US$20 to make a custom report for any store, but the rate might be so cheap that it looked like a scam. So, I raised the price to US$79 after a while.
You may ask, "Why launch another service if you are not doing well at your first one?" This is because we want to learn from users as much as we can. When we are testing with our free users, we found users unwilling to give us feedback. I guess it's because users do not feel like they are obliged to do anything for us. Users spent their free time to test our new app, in return they can enjoy new features beneficial to their businesses. Fair trade, right?
I have to change this concept. If a user wants to ask us for our valuable opinion, he needs to pay for it. When users pay for something, even it's just a small amount of money, they will have a commitment to work with you. While providing our previous hands-on experience as a return, we can get user opinions and understand the challenges they are facing.
Furthermore, we have made Conversion Report a value-added service to the SPO users. It's included in the pricing plan. When a user signs up the free trial, he can claim a free conversion report. I will shoot an email to the new user when he installs our app. We are very happy to help him grow the business, together.
New Intro Video Made
Not much to say about it. I spent US$157 dollar on Fiverr. A Poland-based video producer helped me do the voice-over, script writing, video production and background music. After I sent him a brief explanation about the video, It was finished within 1 week. Loved his no bullshit approach. I want to better illustrate what our app does, with graphics instead of plain texts. Not sure if this investment will pay off. Well, you can give me a comment as to whether you like the video or not. It's just 1:30, very short.
A Simple Affiliate Program
0.5 – 1 day has been used to construct a simple Affiliate Program. I have been closely checking who is trying our app since the beginning. Out of my expectation, some users are web designers or Shopify experts, who are not the end users. I guess they are sourcing solutions to solve customer's problems. If my little app can help them save development time, they can spend more time on other meaningful works. I also often do sourcing works for my customers.
OK, they may be just spying on my app, but I always refer to other similar apps before the dirty works. So it's my karma, huh?
Facebook & Reddit Ad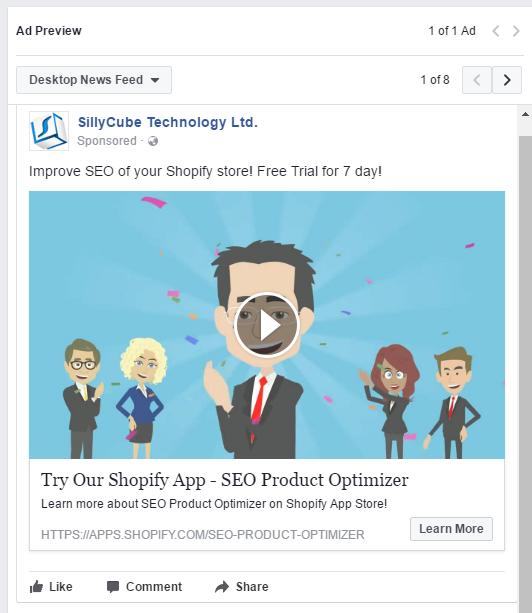 I have allocated US$75 and US$10 for Facebook and Reddit respectively. At the moment of this writing, Facebook has just displayed my ad for 1 day. There is not a single customer converted yet. I used the above video, linking to my Shopify App Store listing page as the ad content. Let's wait a few more days to see how it goes.
Reddit charges based on impression. I don't know what CPM means. The system allows me to set the CPM from $0.5 and up but I don't know which level could bring me more audience. The subreddits /ecommerce, /entrepreneur and /shopify are selected to display my ad. As I have no idea of how it works, I have sent an email to the Reddit advertising department. They haven't replied me yet.
What's next?
Adding keyword ranking function to SPO. It can help to track store ranking against specific target keywords.
Co-marketing with a customer of Conversion Report. His story is very interesting. I will share the interview with him in the next post. I have been researching co-marketing for 1 week. It looks like a cost-effective marketing tactic. Two parties share the cost with double the results. Personally, I am very excited to test this strategy soon. Please stay tuned with us!
I have an idea. After discussing with different store owners, I think they are having different kinds of problems. There are various tools available for users. There are different blogs teaching them how to do SEO, social marketing, branding, inventory management, etc.
.
However, the real problem is that they don't have practical experience nor knowledge to use the correct information. And it takes them a long time to find out the correct solution. I am wondering whether it's useful to have something like Quora / Stack Overflow for E-commerce. When a store owner is having a problem, he can ask other experienced store owners for an answer. If the questioner wants more, he can request a custom consultation session by paying an expert per hour. When I was asking questions on Reddit, I was not sure whether the answer was useful because no one is showing identity or background.
.
I am thinking to do a small test for this idea. What do you think? Do you think it's practical? 🙂
That's all I would like to share with you for the month. Let's get back to work!
Did you find your Product Market Fit?
How did you find the Product Market Fit (PMF) under limited time? What pivot did you try before discovering the real market? Feel free to drop me a note at [email protected] or you can just leave a comment here!
If you're interested in how I am doing right now, feel free to visit my blog or follow me @BennyyChan