There were some stunning facts released recently from Facebook:
As of the third quarter of 2016, Facebook had 1.79 billion monthly active users. Furthermore, as of that quarter the social network had 1.57 billion mobile MAU

Source: Statista
The user number is reaching a quarter of the world population. On top of this we have seen that there are plenty of ecommerce success stories from the platform, how store owners use Facebook shops to make a huge seasonal sales or how a Facebook group build a strong community to sell very well against a specific niche. So the benefits from integrating ecommerce and social networks can be extremely powerful. While it is free to open a Facebook page or group, it can be very challenging and time consuming to build up a hype for your business.
So here are 7 tips on helping you maximize the post reach on Facebook by little skills. All it takes is your patience to work on content with no magic.
1. Specify Open Graph tags for the page
To set what a post display on Facebook, what you need to do is to follow the Open Graph tags for the page. From our personal experience, we noticed that there were many web stores missing the required tags. If you are a webmaster, you can set the 5 basic tags below:
og:title
The title of your post. If you are doing a promotion for a collection, you can set something like "

Seasonal Sales for xx at 50% off

" . Just beware the title doesn't go too long. Otherwise it cannot be fully displayed. The title will get chopped off automatically.
og:type
The type of your object. If you're just sharing a product page, we can just put in "website" for simplicity.
og:image
An image URL for the post. Basically there are 2 types of post image. A big banner on top and a small side banner on the left hand side.
og:url
The URL of the page you share.
og:description
A one to two sentence description of your post. You can give more context to your audience in additional to the post title.
If you don't want to play with the coding, you can use Terminal App to conduct your day to day social marketing activities. It's a more painless way to generate a Facebook post with the context you like.
2. Select the target post format

There are 2 post types allowed on Facebook:
For ecommerce it would be better to use the post with big banner. Big banner can better catch user attention when user is just scrolling fast on the newsfeed. Our purpose is to capture a glance when user is commuting, have a short break, etc.
Shopify App – SEO Product Optimizer can help your products to fit in various post types of Facebook and Twitter. If you own a Shopify store, you can try it while it's free at the beta stage.
3. Use an attractive post image
Visuals always communicate better than plain texts. The image should follow the best resolution recommended by Facebook: from 600w x 315h to 1200w x 630h (best at 1200w x 630h, width to height ratio kept at 1.91). If you don't follow the ratio and minimum resolution, it may be distorted. Always use high resolution image if possible.
If you don't have extra budget for stock images, you can use the free high resolution images below. It's good for personal or commercial use. I use them for my blogging works very often.
4. Share at a good time
This next tip involves the use of an awesome app I started to use a few weeks back called Buffer. Amongst lots of other social marketing utilities, the app provides the capability to share the post at your designated time. So you don't need to wait till the moment pressing the "Share button"
If your products are not convenient for viewing during work hours, it may be better scheduled at the later time around lunch hour or at night, when users are free to like or share posts.
5. Do NOT bombard users with products (NO Hard Selling)
Always try to give users a reason to share. Whether your posts help users share to look good or share to connect with other friends, just avoid bombarding users continuously with your products.
Imagine you are exposed to a page with numerous product ads, what you wanna do is to escape what I call the "Ad Hell". Instead page owners should always maintain a healthy "Content vs Ad ratio", just like what you read in a magazine. A balanced ratio should stay around 80:20, just like this article will show useful information to online store owners instead of pushing our products everywhere.
When we are talking about social media, one principle always works: "Content is King". Try to create stories that are interesting to your audience.
6. Check the result on Facebook Debugger
After you have finished the dirty works, don't forget to make a checking on Facebook Debugger. I have seen that many store owners don't care about the share button, resulting in a broken post: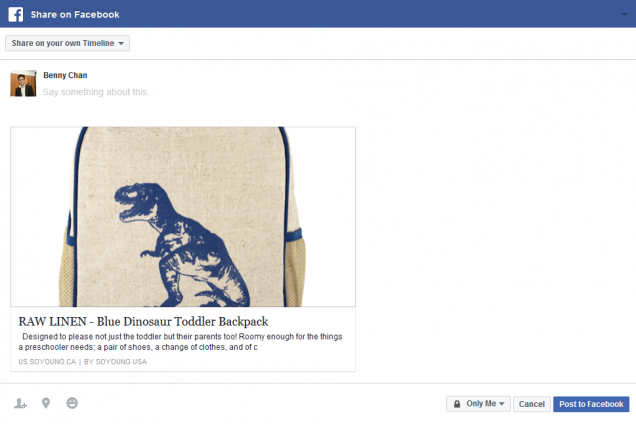 The tool can show a preview of the post shown on newsfeed. Don't be panic if it shows a blank post without share image. When no others shared it before, Facebook doesn't have a cached copy to show you. What you need to do is to press the "scrape" button to update Facebook about your move. That's it.
Next time when you update the Open Graph tags for a page, you should press "scrape" button again to clear cache. Facebook will store the cache for an unknown period of time. If you don't tell Facebook, users will just see the last edited version until Facebook scrape bot do the work.
7. Engage with post audience
Final tip: Ask your team to like, comment or share the post to boost post reach. Facebook algorithm measures the post quality by the number of like, comment and share when the post's published. If the quality score is too low, it will not be shown to the fans of a page or friends, resulting to a low post reach.
Where do you bury a dead body? I would say that a sunk post is a good place.

The arriving of social ecommerce has been reshaping our shopping experience
Do you think the tips can help you more productive in social marketing? What other ways are you using to leverage social media on ecommerce?
Feel free to ping me at [email protected]