Due to the continuous attempts of Facebook to reduce fakes news, link baits or misleading contents, Facebook has announced a new News Feed algorithm update which will limit the reach of content shared by profiles which regularly post a heap of links in quick succession.
On July 18, 2017 the ability to edit link preview content (title, description and preview image) will no longer be available for most Pages and apps. Previously, you can change the preview image with your own image. Now the feature has been disabled forever.
I am sure all of you find the feature disappeared. The change has become a trouble for many social media agencies and publishers. As an online store owner, you can longer set up promotion images for your facebook posts.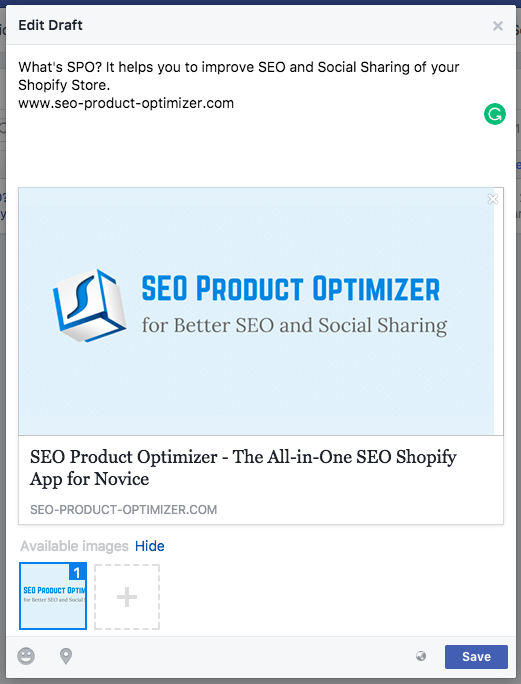 What you can do to solve the problem
There are a few ways you can try.
Domain Verification to claim your site
Facebook has rolled out a solution for media publishers (not yet for other companies). To implement domain verification, you need to choose between two different methods:

add a DNS TXT entry to your DNS record to confirm that you own the domain, or
upload an HTML file provided by Facebook to your web directory and confirm domain ownership in Business Manager. You can follow the detailed instructions on the captioned website.

Edit your Open Graph tags before sharing
The existing way to edit link preview image with Open Graph tags doesn't change at all. You can still edit the related og tags to get your desired share posts. But you also need to edit your website coding manually. Of course, you can use our Shopify App – SPO to simplify the process for you. We would be happy to help!
What's next?
We are researching the possibility of building a simple tool to solve the problem. Please feel free to let us know if you're interested via support[@]seo-product-optimizer.com. We would be happy to hear from you!
Reference of formal announcement
Link Preview Editing – https://www.facebook.com/business/help/247886969033572
Domain Verification – https://developers.facebook.com/docs/sharing/domain-verification#who
A Guide to Sharing for Webmasters – https://developers.facebook.com/docs/sharing/webmasters